For a list of articles in this series, go here: How To Set Up A Blog and Forum Article Index
Welcome to part four of How To Set Up A WordPress Blog And Forum.
Here's where we start getting into the nitty-gritty of doing keyword research for our chosen topic. When it comes to things like market research, seo, keywords and stuff I have a secret to share with you.
Lean over to your monitor so I can whisper it. Don't be a sissy, just lean over here. Closer. Ok, here it is…I'm not an expert.
I know, big surprise. Listen, I blog, that's what I know. I'm always learning and this series is about how to set up a blog and forum. It's not about market research, seo, or things like that.
Are those important? Absolutely, but what I'm doing here is basic stuff. Newer people may go, "Oh, so that's how you do it" while others may go, "That's too basic". I have opinions on the different methods that people use to find Clickbank products and keyword research, but I'll save those for now.
I definitely know more today than I did a month ago and I intend to keep learning. So without further ado, let's go back full circle and see where this all started (briefly).
I found a product that tickled the memory of an old hobby that I ended up deciding to set up a blog and forum for. Here it is:

For any of you who don't know about what those stats at the bottom mean, here's a real quick idea based upon my current understanding:
grav = gravity. This is what a lot of people look for. It is approximately how many affiliates have sold at least one of these in the last 30 days. It's not a one-to-one ratio. This one's gravity is not good, but it's higher than the other products I found. Good thing I'm doing it for interest.
%refd = What percentage of the sales of this product came from affiliates.
%/sale = What the percentage of the price the affiliate gets.
Total $sale = The maximum dollar amount an affiliate gets per sale of one of these.
So, I probably will look to see if there are better selling products elsewhere but there's no harm in having this as a small ad somewhere either. If I was doing this strictly from a money making position, this is not a good sign, but I'd research it a bit more before making a final determination.
Next, we take some keyword ideas from this product. 'Saltwater fish' and 'invertebrate', 'coral' etc. For our example's sake, I'm using 'saltwater' but normally you would write down as many as you can think of. Then we take our list and head over to Wordtracker, it's free.
It's already sorted by searches and you can see that 'saltwater fish' has 338 daily searches. You would note down all the ones that interest you. I'm going to just use 'saltwater fish', for a pure money making site, more is better. Now we go use the Google Keyword tool.
Below you will see that I ran the search with the match term as 'exact'. Exact is when people go to Google and put their searches in "quotes like this". Broad is when they don't use quotes. I've seen experts use both.
I also added the column Est Ave CPC which gives me the approximate average cost per click for each keyword. I sorted it by advertiser competition.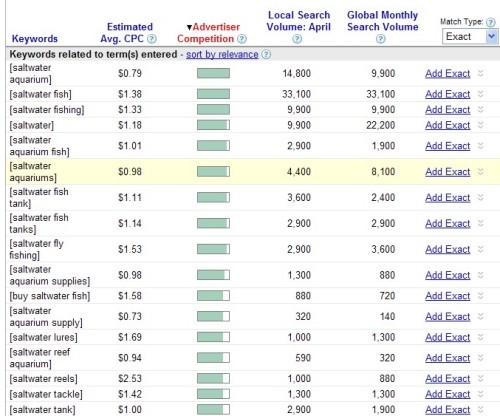 Now you can click on the .csv at the bottom of the screen and save your results on your computer in a format that a spreadsheet can import. You should also look at another good and free tool called Good Keywords. You would import the .csv file into it and you can sort them in different ways, combine them etc.
There are both services and products that you can buy. Some are average, some are exceptional, I don't own any but I might in the future. In any case, we take the keywords that interest us the most and just simply put them into the Google search engine. Below I've given the results for both a broad match and an exact match.


In case you can't read the numbers, there's 1,230,000 competing sites for the broad term and 1,120,00o for the exact term. On the very top and sides you see the paid ads and that's one reason why I looked at the cost per click of the keywords.
The more specific you make your keywords the better you will do at finding a combination that helps boost your search engine ranking. For example, 'saltwater fish tank' is more specific than 'saltwater fish' but not as specific as 'Aquaflow saltwater fish tanks'. This is what people are talking about when they mention long keyword tails. It just means "more specific search terms".
Once you find the combination that you think will get you the best bang for the buck, you try to get a domain name. If you were doing this strictly to promote a product, you would try to get a domain name with the product's title, like this: www.ultimatesecretstosaltwaterfishandinvertebrates.com
Hard to read but it has essential keywords and reflects the product. If it's unavailable you could try a .net, .org, .info etc. You could also try using hyphens or underscores in the name. I am told that for domain names, you rank better if your domain is all one word, next best is hyphens, and after that would be underscores.
So in an ideal world if you have a product called Saltwater Fish, then you would also have a domain of www.saltwaterfish.com or www.saltwater-fish.com, or www.saltwater_fish.com.
The domain type (.com, .org, .info) isn't as important. But if someone is typing from memory and can't quite remember the url, they probably will default to the .com
Someone said that generally if you are going to sell the website, you want a .com otherwise it doesn't matter. I don't pretend to know.
So, pick your topic, do your research, go to GoDaddy and register your domain, go to HostGator and purchase a hosting account. This would be a good time to sign up with either Aweber or GetResponse for your autoresponder. I'll see you next time where we start setting things up.
– Jeffery